Conservatory
Winter conservatory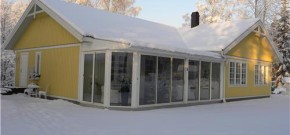 Winter conservatory is an important relax zone of your home and that is also the reason to have it done in high quailty so you can enjoy your relax without any bother. Winter conservatory should have high thermal-insulating qualities. Thanks to double-insulating glass- expenses for your winter conservatory heating are low. You can also choose more affordable roof-glazing material Lexan /cellular polycarbonate/. Our winter conservatories are realized by using aluminium construction with thermal break only, so there is no mist on your windows and heat leakage..
Options of implementing
Double-insulting glass
Translucent polycarbonate / never gets yellow, UV protection/
Cellular polycarbonate- Lexan (Sample)
Acrylate glass (Low-priced alternative)
Aluminium construction advantages
Construction put together by assembling- not welding
Easy to dismount and change parts anytime
High quality of chosen materials- corrosion and weathering- resistant
Low material expansivity
No subsequent maintenance
Colour fastness
Reduction of construction weight and building
More light using translucent roofing materials
Hight quality certified aluminium systems Cortizo. See profiles.
Summer conservatory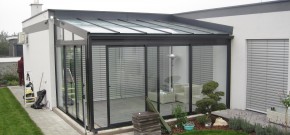 Summer conservatory is suitable solution as a terrace- or porch glazing. As we use a summer conservatory for spring, summer an autumn period mainly, there is no reason to putt the accent on high insulation quality, as we do by winter conservatory. Aluminium construction comes without thermal break, for glazing  is used 4 mm single- safety glass (a lower- priced variant of double- safety glass used by winter conservatory). For roof glazing is chosen lightweight cellular polycarbonate Lexan. Sample
See also