Aluminium balustrading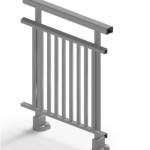 Aluminium balustrading comes out of technical solution of a prefabbed building. Balustrading is there situated between two vertical walls. There are several ways how to anchor the balustrading: on the floor of loggia, or 50 mm, 100 mm and 180 mm higher. The insallation of balustrading is made right on your balcony.
Balustrading padding possibilities
More about frame sliding system (klik and view)

Aluminium profiles surfacing is with white colour powdery nail RAL 9010 or anodising in silver colour. All material used for joining parts together is stainless steel class A2. All plastic components and putty are UV stabile which provides long lifespan of whole system and its colour and function stability. Cleaning glasses of sliding system is made easier by possibility to take off constituetent wings. It is recommened to use normal non- abrasive cleaning products. Sliding of a wing is led by top and bottom rail supplied by draining openings for melting snow and rain water. This sliding system is not hanging- whole weight carries bottom part of profile an wings are led by the same size top profile in level of balustrading (profile does not reach to interior of loggia). Direction of sliding can be left, right or from the middle to both sides.